Skip to Content
How to Hire a Property Management Company for Your HOA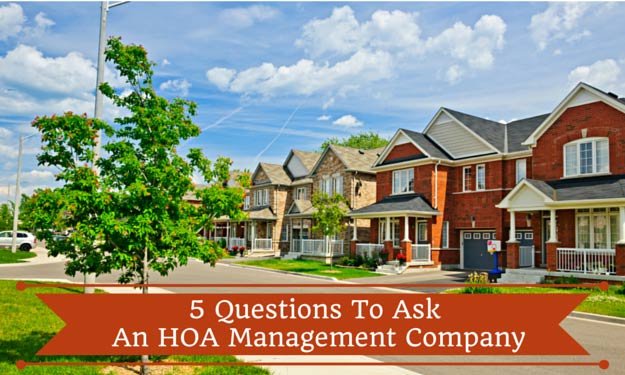 As the year draws to a close, many of us take this time to pause, take stock and make plans for the next year. We know Homeowners Associations (HOAs) are no exception from this. In fact, the end of the year is commonly when HOAs consider choosing a new property management company for their communities.
Whether you are planning to switch from your present property manager, or your HOA is hiring a management company for the first time, we know it can feel like a tall task. There's a lot to consider to make sure a property management company makes the most of your investment and serves all your HOA residents well. Especially if you have not had the best experience with an existing relationship, that's all the more reason to weigh your options carefully.
We've blogged about how to hire a property management company before, but that was specific to rental properties. HOAs have their own specific needs, however. Here are some questions to ask when looking for a new property management company for your HOA.
5 Questions To Ask An HOA Management Company
1. What services do you offer?
This is probably the most important question you can ask!  Any HOA board member can tell you the sheer amount of work involved in managing a community. It's easily a full time job!
Hiring a property management company for your HOA can absolutely relieve you of that burden, but you first must have a clear understanding of what services you will get, and what your involvement will need to be.
A great property management company understands that needs vary depending on what type of community your HOA represents, and will be more than willing to craft a contract reflecting that. These are the general services you should expect from a property management company, though:
Manage monthly collection of HOA dues
Handle collections for any unpaid dues
Provide monthly reporting to your HOA board
Create annual budgets
Manage HOA financials
Help your HOA develop capital replacement plans for long-term needs
Address any maintenance issues
Find and manage contractors
2. Speaking of services, what will you maintain for my community?
One of the services your property management company should provide that will be most crucial to the satisfaction of your homeowners is maintenance. The goal should always be to handle maintenance so smoothly, most residents don't even have to think about it. Many steps must be taken to arrive there, however, and communication with your potential property manager is the first step.
Here are some more specific questions to ask:
What exactly will you maintain?

Beyond the typical landscaping, will the company clean up cigarette butts in the parking lot, for example?

What is the HOA's responsibility? (Read our blog post about this to get an idea of the typical divisions.)
Who do we communicate with about maintenance needs?
What is the turnaround time for addressing maintenance requests?
Can homeowners communicate with you directly?
What about in-house maintenance?
We've said it before, but we don't recommend hiring a property management company that handles maintenance in-house. We have several reasons, but here's the main one.
We wouldn't hire a jack-of-all-trades to fix the plumbing in our own house. We'd hire a plumber. Since we treat your property like our own, we do the same for you. Rather than using in-house maintenance team, we identify and contract the best professional for each individual job, or we will gladly work with any contractors our clients prefer.
3. How is pricing structured?
Our biggest piece of advice? Compare apples to apples. A cheaper property manager might sound great at first, but it may not include nearly as many services as a seemingly more expensive company.
Fee structures vary too. EZR uses a flat, per-unit fee that is very straightforward, so there are no hidden costs and add-ons. We recommend a company that uses this structure because it limits the opportunity for mark-ups throughout the year.
No matter the fee structure, your contract should be clear and comprehensive. Make sure all services discussed are included. Just like many other things in life, a bargain will often leave you short-changed, so it's important to ask for a complete fee schedule, not just an initial bid, and to read the fine print.
4. Are you experienced with HOA management?
A property management company may have many years in the business, but if HOAs are not in their wheelhouse, you might want to look elsewhere. Managing a community for an HOA is very different than an apartment complex, as well it should be. Homeowners rightly have much more stake in the decisions made in their community and will be invested in not just the short-term outcomes, but the long-term implications. And, in an HOA, you can't evict even the worst rule breakers!
A property manager experienced with HOAs will understand how to mediate conflicts, temper disagreements and most importantly, get things done. If you've ever experienced an HOA board meeting that just went in circles, you know the importance of this skill set!
Overall, though, it's crucial to determine if your property management company goes above and beyond collecting dues and maintaining the grounds. Hiring a property manager is an opportunity to increase the value of your community. Ask a prospective company for examples of when they have done just that for their clients.
5. Can I see your references?
Always do your research. You usually check out reviews of the hottest new restaurant before making a reservation, right? Entrusting your HOA's community to a property management company means you should do that, and then some.
Ask any prospective property manager what HOAs they have managed and for how long. Ask to speak to their clients with needs that are similar to your HOA's, and find out what successes they've experienced during their partnership.
You might consider conducting a background check, as well, to do your due diligence.
We hope this tips will help you navigate what can be a daunting process. Just remember that an excellent property management company will make for a much happier HOA!
If you have any questions about this or anything else related to property management, you can always drop me, Ryan, a line or leave a comment below.
About Ryan Edwards
Ryan Edwards is the owner and property manager for EZR Management. He founded the company in 2006, building on his years of experience managing and renting properties.