Skip to Content
What Type of Investment Property Should I Buy?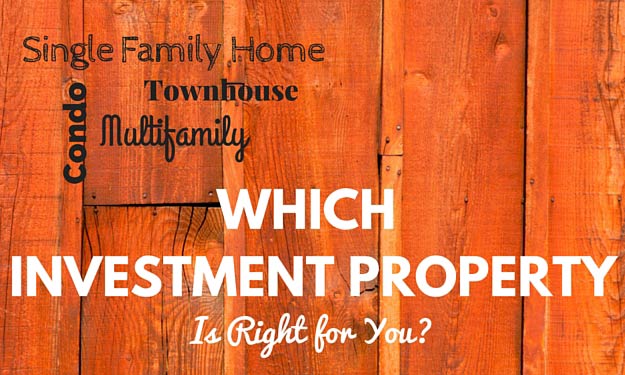 So you've decided to embark on an exciting, but daunting adventure: becoming a landlord. You have your ducks in a row to make the investment in your very own rental property, and you're ready to roll. Now you just have to decide what type of property you want to buy—single family home, townhouse, condo, or small or large multi-family home?
For many first-timers, answering this question can be a challenge. You want to make sure you get a good return on your investment dollar, but you also don't want to get in over your head.
To help you find the answer, below are some things to consider and key pros and cons I've encountered in my decades of experience investing in all types of residential rental properties.
Key Considerations When Investing in Your First Property
Here are a few things to keep in mind, no matter what type of property you choose to invest in…
Repairs
The condition of the property you buy should always be a top consideration. Any property in need of a lot of repairs is going to be a trickier investment.
Consider the costs involved in repairs and how that differs among types of properties. For example, if the roof needs to be replaced for a house, that burden will be completely on you, but in a condo, the expense would be spread out among all the HOA members.
With the rise of the house flipping TV shows, fixer uppers have become a popular buy. But be very careful. Like anything else, it's never usually as easy as they make it seem on TV. I would not recommend a big fixer-upper to someone investing in their first rental property.
Remember, while you may be getting a fixer upper for a lower price, you also have to put money—along with time—into renovations right off the bat. That will delay how quickly you can get a renter in there and start creating income.
HOAs
Homeowners' Associations (HOAs) can be a real wildcard in your investment property—especially when it comes to townhouses and condos, but also with single family homes.
As someone who works with HOAs, I can tell you they range greatly in terms of cost and what restrictions they have in place. Make sure you do your homework so you know the HOA fees and the rules they have in place before buying.
You'll also want to look into how financially sound the HOA is for your potential property. If they are not financially sound and will be doing special fee assessments every time your building has a need, the benefit of sharing costs among fellow owners is lessened.
But, if it is a strong HOA (one with a good property management company at the reins), the fees you pay monthly will often outweigh the cost of paying for major repairs in a single family home.
Location
No matter what type of property you buy, one thing is key: location. You can fix up a condo, add curb appeal to a house, and even add on bathrooms or bedrooms if you need to, but you cannot change where the property is located.
You'll have a much tougher time renting out a great property in a neighborhood nobody wants to live in (at least for good market value) than you will an average property in a place where everybody wants to live. Always make sure to keep that in mind.
Which Type of Residential Rental Property Investment Is Right for You?
The answer to this question is different for everyone, depending on the level of investment and personal involvement you're interested in. Here's a quick guide to gauge the best fit for you:
Single Family
The single-family home is a stand-alone residence typically designed for three to six people to live in. A single-family home in an established neighborhood where rentals are desirable can be a great choice for first-time landlords.
Pros
Good potential for value appreciation, especially compared to condos and townhouses
Few limitations on what you can and can't do to the property (unless there is a particularly strict HOA)
Less work to rent and maintain than multifamily properties
Lower interest rates and higher loan-to-value (LTV) ratios than other property types
Cons
Will require more maintenance and upkeep than condos or townhouses
Until the property is rented or if there are rental gaps, your income from the property will be zero
Less income potential than multifamily properties
May require some investment for initial renovations
Townhouse
A townhouse is a residence that shares walls with other residences. Most townhouses today are in planned communities. A townhouse offers a lower cost, low maintenance investment option.
*Note: You may be wondering what is the difference between a condo and a townhouse. With a townhouse, you own both the interior and exterior of the building. In contrast, with a condo you typically own only the interior—while the overall building that houses the condos is owned by someone else.
Pros
May offer a more affordable option than purchasing a single-family or multifamily home
Often provides more space than you would get with a condo, and lower HOA fees
Usually require less maintenance than detached homes
Community may provide snow and lawn care, trash removal, water and sewer, and exterior hazard insurance (with costs wrapped into HOA or monthly fees)
Cons
Usually include less yard space than detached homes
Have to pay HOA or monthly fees, which can vary in cost
Townhouses are typically harder to sell and have less appreciation than detached homes
Can be difficult to rent if other townhouse rentals are available in the same community
Condo
Condominiums (commonly called condos) can vary greatly in size and makeup. Some can be more like apartments or lofts in large buildings while others can be set up like townhouses. Like townhouses, condos also offer a lower cost and maintenance property versus homes.
Pros
May offer the most affordable option of all the housing types
Condos will generally require the least maintenance of all the housing types
HOA or monthly fees typically cover everything you get with a townhouse—and may include extras like paid utilities, Internet, cable, security and air conditioning
Different condos may also include valuable rental amenities like pools or fitness facilities
Cons
HOAs are generally the most expensive and restrictive with condos
HOA boards have full control over what you do to the exterior of your unit
The HOA can also control your ability to rent your condo. Many communities will only let a certain percentage of condos be rentals (so make sure to look into that before you buy).
Condos can be difficult to sell if several are on the market at the same time
Small Multifamily
A small multifamily house is generally defined as a residence with two to four different units—which can range in size. A small multifamily property requires more investment and involvement than the options above, but with a greater return.
Pros
You could live in one of the units while renting out the others
Instead of relying on rental income from just one source, you get it from several
Offers a lower investment option than large multifamily homes
More flexibility to make changes (interior and exterior) than condos and townhouses
Cons
Requires greater upfront investment than single-family homes, townhouses or condos
Maintenance responsibilities and costs will be higher than with single-family homes, townhouses or condos
Increased time showing units, screening potential tenants, and finding replacements tenants
Multiple vacancies at one time can really hurt your return
Large Multifamily
A large multifamily home is generally defined as a building with five or more units to rent out. Large multifamily properties offer the greatest income potential, but also require the most risk and upfront investment.
Pros
More units to rent means more potential income
You can live in one of the units
Vacancies will not hurt your return as much as they will with small multifamily properties
Employing a property management company to maintain the property and fill rentals may offer good cost efficiency
Cons
Requires the greatest upfront investment of all of the options on the list
Requires the most maintenance investment of all the options on the list
Will likely have the most turnover and require the most time and effort to fill vacancies
More tenants can mean more problems, from tenants not getting along to disturbance calls
If you're a first-time landlord, congratulations! I'd love to hear what questions you have. Leave your comments below, or drop me a line anytime. 
About Ryan Edwards
Ryan Edwards is the owner and property manager for EZR Management. He founded the company in 2006, building on his years of experience managing and renting properties.