Skip to Content
8 Important Tips If You're a Landlord
People love to hear that owning a rental property can be fun, easy and lucrative. My career in this business is proof that it often can be!
However, I am not afraid to share with landlords what I have learned from experience: There can be a lot of challenges to renting out a property, whether it's a single family home or a towering apartment complex.
The common pitfalls many landlords encounter can be avoided, though, if you follow these tips.
How To Avoid Common Landlord Mistakes
1.  Set your rental price right.
Don't guess at how much you should charge for rent. I've seen eager property owners stopped before they ever even started by setting their rental price too high. The other side of things can be just as problematic. If you don't ask for enough rent, you may miss out on the best tenants who can afford to pay more, and you'll definitely miss out on additional income.
Research rent prices in your area diligently, and don't stop at dollar per square foot, as not every square foot is made equal. Compare amenities, features, and upgrades apples for apples. The best way to make sure you start off right? Get a professional opinion from a real estate or property management expert.
2. Attract the right kind of renter.
I've met many landlords with the attitude that finding a good tenant is simply a game of roulette, but my experience in the business has shown me that it's just not true. You can attract the right tenant by renovating and staging your home in a way that appeals to stable young families or young professionals. Don't skimp on details like fresh paint or updated appliances. These things appeal to renters who will take better care of your home.
3. Have a sizable emergency fund.
A frequent mistake first-time landlords make is not having enough cash for big expenses that can arise. It is probably hard to hear, but you might not be ready to rent your property if you can't put together a rainy day fund that can cover the cost of replacing several big-ticket items like your HVAC, appliances or roof.
Even if you don't have to make repairs or replacements in your property, it's good to have a financial cushion in case you experience a vacancy and need to pay the mortgage out of pocket.
4. Hope for the best, prepare for the worst — by getting insured.
The ways you can be found liable as a landlord might surprise you. For example, you could end up footing the hospital bill for any injury that takes place on your property, no matter the circumstances.
No one expects the worst case scenario, but you should plan for it. In addition to property insurance, we recommend that all property owners also carry liability insurance. That way, if you ever have to go to court over something related to your property, your legal fees will be covered. And don't stop there. Be sure to talk with your insurance broker about any areas your policies may not cover, and consider getting additional policies such as earthquake or D&O insurance, depending on your situation.
5. Don't get too involved.
Whether it's micromanaging day-to-day details, or communicating too much with the tenant, one of the biggest pitfalls I see landlords encounter is being overly involved with their property.
Have you heard the phrase, "Too many cooks in the kitchen?" Sometimes simple matters can become needlessly complicated if a well-meaning property owner becomes too involved.
If you have a property management company, you don't need to spend your precious time arranging repairs to your property or communicating with tenants. That's your property manager's job!
Even if you are managing your own property, this can still be an issue. Being a landlord can become a full-time job and then some, even if you started out with intentions to earn passive income. Stay focused on the big picture, prioritize and delegate. Your time is money, and too much of it spent on your rental property will chip away at the perks of your investment.
6. But don't check out, either.
On the other hand, even the most successful rental property is not completely turnkey. In fact, I caution anyone against working with a property management company that promises this.
A property manager can alleviate many burdens, but ultimately you must be involved if you want to make the most of your investment. When things are good, you'll want to know how your home or building is increasing in value and if you should consider raising rents. And when mishaps occur, you'll have to be available to help solve the problem.
7. Fix things right the first time.
Hopefully, you've followed our advice and stashed away enough cash for when the roof leaks or the air conditioner breaks, as they inevitably will. When those things happen, and you are staring down the barrel of a new roof or HVAC estimate, it's easy to look for a quick fix.
Sure, there are times when you can opt for an inexpensive repair rather than a costly replacement. No matter what, though, try to only fix things once. A major pitfall I've seen first-time landlords encounter is attempting to save money with the minimum repair — only to end up spending much more in the long run to fix it right.
Above all, your tenants will appreciate that you keep the home in great shape for them, and future tenants will pay more to rent a property that's in tip-top condition.
8. Remember that an investment property is a long-term play.
Renting a property can get frustrating in the beginning, especially when it feels like you write more checks than you receive. The truth is: The benefits of renting are seen over several years, as you build equity with your tenants' dollars. Don't lose sight of your long-term investment if you experience any hiccups early on.
Following this advice should put you ahead of the curve if you are renting a property for the first time!
Do you have an investment property? What are pitfalls you've encountered?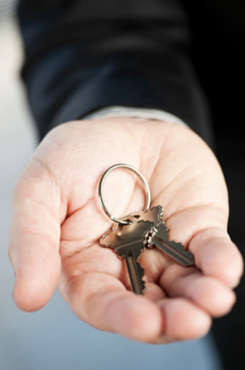 About Ryan Edwards
Ryan Edwards is the owner and property manager for EZR Management. He founded the company in 2006, building on his years of experience managing and renting properties.