Skip to Content
How to Win at Craigslist and Find Your Perfect Rental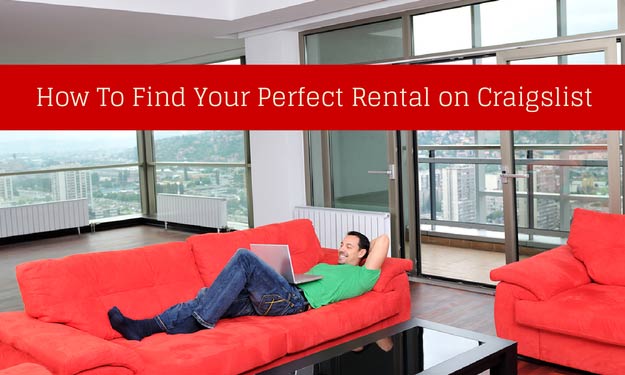 The days of circling apartments in the daily paper have virtually come to an end, with Craigslist by and large replacing the classifieds. While there are plenty of options to search for apartments and rental homes online, it can be overwhelming.
Here's the good news: if you learn to use Craigslist to your advantage, you can find a fantastic rental much more easily than you would in the newspaper days. 
How To Hunt For A Rental On Craigslist
1.  Don't be afraid to use the search functions.
It might be tempting to start by looking at everything that Craigslist has to offer. However, just like we provide ways to filter the properties on our website, Craigslist offers search customizations for a reason! Fill out each field you can, such as your maximum budget for rent, to cull only the listings that might fit you.
2.  But don't be too limiting!
Keep your actual search terms to the names of neighborhoods. For example, just search "Germantown," rather than "Germantown condo with hardwood floors." The listing may not include the type of flooring, but you shouldn't count it out!
Some things might be negotiable, too. For example, the ad may say an apartment does not allow pets, but if it's a great place, you could possibly negotiate a pet deposit. So we wouldn't recommend filtering by whether dogs or cats are allowed.
3.  Refine your searches.
You can exclude terms from your search by using the minus sign. For example, if you'd like to be in Midtown but you don't want to live in a condo, you can search "Midtown -condo" to get rental ads for Midtown places that don't have the word "condo" in them.
4.  Search in Map View.
It can be hard to get an idea of where a rental property is located just from a Craigslist ad, but switching to Map View quickly gives you a visual understanding of your search results.
5.  Track your favorites in one place.
You can mark favorites on Craigslist, but if you switch browsers or computers, it won't go with you. Whether you are old school and use a spiral notebook, or keep everything in an Excel spreadsheet or on Evernote, catalog all your favorite listings and the essential information — location, size, rent. You could even create a secret Pinterest board to house all your potential homes!
Take Your Search A Step Further
6.  Google it.
Once you've found a rental listing that interests you, Google the address or name of the building. There are a few reasons why you should always do this:
Frequently, it's a good way find out more about the building or neighborhood. Many apartment complexes have Facebook pages, for example, which usually show up on the first page of search engine results. Or maybe there are more pictures on websites like Zillow than were posted to Craigslist.
You can take a tour through Google Street View to scope out the neighborhood without leaving your couch.
Search Nearby in Google Maps to find out how far you'd have to go for the nearest grocery store or Chinese restaurant.
With the Directions feature of Google Maps, you can also figure out how long your new commute would be.
7.  Call to ask questions.
While we use email all the time with our clients and tenants, we suggest picking up the phone right away if you are really interested in a particular rental. If it's a hot property, making a call will put you to the top of the list.
Emails can get lost in the shuffle but a good landlord or property manager will try to return your call promptly. Go ahead and ask about anything that was not clear from the Craigslist ad so that you don't waste time at unnecessary showings.
8.  Vet your potential landlord.
Unfortunately, there are Craigslist scammers out there, so not only should you talk on the phone, you should always meet any future landlords in person too. A reputable landlord or property management company will want to schedule a showing of the apartment or home and will gladly provide you with references.
Spend a little extra effort perfecting your rental search on the front end, and you will save a lot of time and energy in the long run!
Have you used Craigslist to find your rental? What tips worked best for you?
About Ryan Edwards
Ryan Edwards is the owner and property manager for EZR Management. He founded the company in 2006, building on his years of experience managing and renting properties.