Skip to Content
How to Hire a Property Management Company: 5 Questions to Ask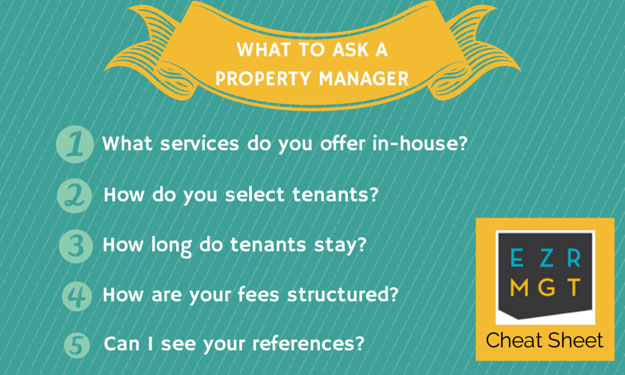 Whether you want to rent out your single family home or a large multi-family rental unit, hiring a property management company to manage the day-to-day maintenance of your property can be a sanity-saver. Hiring the right partner will help you safeguard your investment, protect the home that you treasure or maintain a positive reputation for your company. But that is only the outcome if you hire the right property management company. Otherwise, you could lose your sanity, property value, customer loyalty, positive reviews and money. Before you decide on a property management company for your home or complex, ask these five questions to see if they are the right fit for you.
5 Questions to Ask When Interviewing Property Managers
1.  What services do you offer in-house?
If they say "everything you could need!" you should be hesitant. It may sound like a good idea to have insurance, sales, tax appeals and maintenance all under one roof, but in reality, it could mean trouble.
Some property management companies offer lots of services to add revenue streams to their bottom line. Although there's nothing wrong with that concept, oftentimes, it means you're not getting the best service in each of those areas.
For instance, property management companies with an in-house maintenance team typically hire a jack-of-all-trades. You're better off hiring a property management company that brings in specialized contractors to do the work, or allows you to find the right company for the job. You'll end up with better results that help you maintain the value and integrity of your home.
2.  How do you select tenants?
To protect your property value, you want tenants who respect your place like it's their own. A good property management company has a careful process to ensure a prospective tenant is reliable and will do just that.
At the minimum, property managers should verify employment and income, and order credit reports and criminal background checks. Find out what the company's "deal breakers" are. For example, do they have set in stone income ratio qualifications, and how did they arrive at that figure?
Beyond that, I recommend property managers personally contact prior landlords to learn more about the potential tenant. A personal reference can often tell you a lot more about a prospective renter than a credit score ever could.
3.  How long do tenants stay?
Although rental tenants rarely stay longer than two years, you want to work with a company that has a history of keeping tenants. If a property management company can keep tenants for two or more years, then they are providing quality service and creating loyal customers.
If tenants are moving out every six months, that could signal problems with the company's service. Not to mention, it's not cost effective for a property manager to be routinely losing rent and filling unexpected vacancies.
4. How are your fees structured?
You can learn a lot from the way a property management company plans to charge you. Standard fees are typically 5 to 10% of the gross monthly income from the property. This should be based on rent collected, not rent due. That way, if your rental home ends up vacant, you don't owe the property manager.
A company with a low management fee can be tempting, but be sure to ask what the monthly fee actually includes. Chances are, a low management fee only covers the bare minimum – basically, taking the rent from your tenant. Find out if there are additional fees for things like advertising your home, placing tenants, dealing with evictions or handling taxes. Fees for several individual services will add up and end up not being such a good deal in the long run.
5. Can I see your references?
Any company can tell you how great they are, but the true indicator is if their clients tell you the same thing.
Your prospective property management company should have testimonials and case studies at the ready, and be more than willing to connect you with several references. Be sure to actually make the phone calls and ask for specific examples of how the company has helped their clients.
Have you hired a property management company? What questions did you ask?
About Ryan Edwards
Ryan Edwards is the owner and property manager for EZR Management. He founded the company in 2006, building on his years of experience managing and renting properties.