Skip to Content
How to Prepare for Rental Season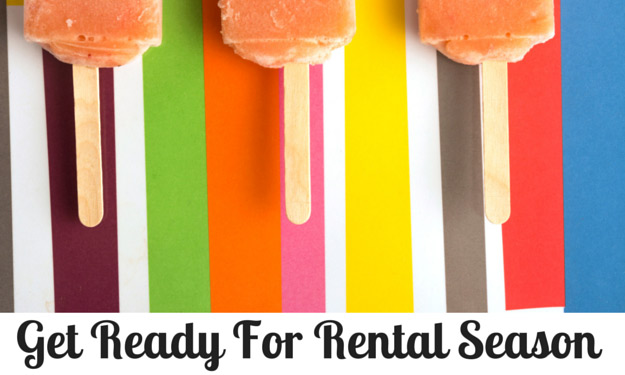 The sun is shining. The grass is growing. The flowers are blooming. That can mean only one thing: Rental season is here!
For a number of reasons, spring and early summer are the best times to list a property for rent. First of all, people are more apt to look at properties and/or move when the weather's nice. People are also typically in a better mood which helps them pull the trigger on a big decision like renting.
Another reason is that properties look better in the bright sun with colorful landscaping than they do in the winter when everything appears washed out and grey.
And, school's out! Both families and college students tend to move in between school years because there's less disruption.
So now is a great time to get your property on the market. Whether you're a homeowner renting your house for the first time or a seasoned landlord looking for a new tenant, here are some things to keep in mind as we enter the heart of rental season.
5 Ways to Get the Most from Your Property Rental
1. Make improvements
Before you list your rental, it's always a good idea to go through and check for any repairs that need to be made. During this process, you should also consider what updates you could make to increase the value of your rental.
Consider investment-versus-return when making any upgrades. But there are some simple, cost-effective things you can do to improve your property. Here are a few examples of easy upgrades that can add value:
Fresh coat of paint
New appliances
Ceiling fans
Light fixtures
Carpeting/flooring
Finally, think ahead a little. Consider bringing in a home inspector to check for any hidden problems. Also take care of any regular maintenance needs like chimney cleaning, changing air filters, spraying for bugs, and replacing the batteries in smoke and carbon monoxide detectors.
2. Find the right price
One of the key questions on the minds of many people renting out their homes, condos or apartments—especially those doing it for the first time: How much should I charge for rent?
A couple different factors come into play. First, you have to consider your mortgage and insurance payments for the property. You want to make sure these costs will be covered by the rent your tenant pays.
Second, you have to know what fair market rent is for your property. You can find this out by doing some research and seeing what similar properties are renting for in your area. When comparing properties and pricing, be sure to keep in mind things like:
Size
Condition
Amenities
Neighborhood
3. Get the word out
Once your property is ready for potential tenants, it's time to get the word out. The more eyeballs you can attract the better—and the quicker you'll get your property rented. So what are the best methods to reach renters?
Print – While newspaper circulations are decreasing, many people still turn to the local paper for rentals. These ads can be costly, but they do generate results.
Online – More and more people are turning to the Web to find rentals. Some key sites where you may want to advertise your rental include Craigslist, Zillow, and Trulia.
Community – Old-fashioned signage also still works pretty well too. Put a rental sign in front of the property with your number and/or post your rental via flyers in local businesses.
One final thing to keep in mind: This part of the process will require a lot of time. You're going to (hopefully) have to field a lot of calls, meet with prospective tenants, and deal with no-shows. As someone who does this for a living, I can tell you firsthand it is time-consuming. Be prepared.
4. Put on a good show
Along with any updates or repairs, you should prepare your property to look good for showings. That means, first and foremost, cleaning. Trust me, nothing turns off a prospective renter more than walking into a dirty or messy home.
Make sure you have everything looking its best—from the stovetop to the windows. You may also want to consider having furniture in the place to show what it looks like "lived in." Don't forget about the outside either. Mow the lawn and give the property strong curb appeal.
Last but not least, how you present the property and the area can have a big impact. Make sure you've done your homework so you can:
Answer any questions
Highlight specific aspects of the property.
Talk about the neighborhood and school district
Point out conveniently located restaurants, businesses, etc.
5. Screen your applicants
To protect your investment, you want to find a good tenant. Someone who will pay their rent on time, treat the property with care, and (ideally) stay for awhile so you don't have to repeat this process again too soon.
A few things to keep in mind:
Follow your instincts – Our guts usually give us a good read on people. If someone doesn't give you a good feeling, it's okay to pass.
Encourage drive ups – Before you take the time to show people the place, it's a good idea to give them the address, have them drive by and call you back if they're interested.
Ask for an application fee – Another way to weed out people who aren't serious about renting is to require a fee for rental applications. These fees generally range from $20 to $35.
Check backgrounds – Looking at things like employment, credit history, previous landlords, and references can make a big difference in separating the good tenants from the bad ones.
Take These Steps to Make the Most of Your Investment
If all that sounds like a good deal of work, it is. But by investing the effort to bring in a good tenant, you'll have an easier time earning income on your rental property in the long run.
Of course, if it sounds too overwhelming there's always another option: Partnering with a property management company. The items listed above are just some of the things we do to assist property owners who don't have the time, resources, or desire to do it all themselves.
If you need help managing your property or you have any questions, drop us a line. We'll be happy to help you find the answers.
About Ryan Edwards
Ryan Edwards is the owner and property manager for EZR Management. He founded the company in 2006, building on his years of experience managing and renting properties.