Skip to Content
The Essential Property Maintenance Checklist for Fall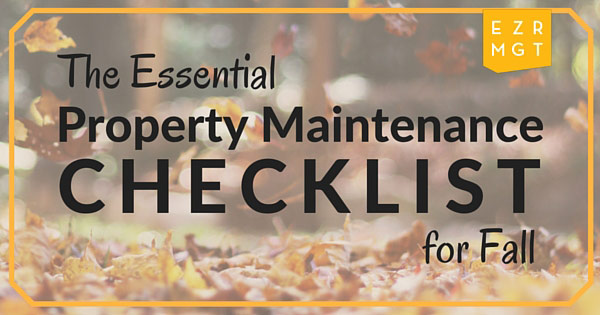 It's official — fall is here. The change of seasons is always an action-packed time of year for property managers. For us, fall doesn't just mark the arrival of changing leaves and pumpkin spiced everything. It also brings with it a list of things to do before Old Man Winter comes along.
Most of these steps are proactive or related to maintenance. They're simply things to check on or manage ahead of time just to make sure each property is in tip-top shape for the harsher months ahead.
Of course, this list of fall maintenance best practices doesn't just apply to property managers—these are smart things for all homeowners and landlords to consider. And even if you're a renter, you should check out what your landlord is responsible for this fall in order to prevent winter surprises.
That's why I thought I'd share some key pointers here today.
7 Things To Do This Fall to Get Your House Ready for Winter
A recent blog post from Appfolio provided a pretty solid list of 10 Tips for End of Summer Property Upkeep. This name may be familiar to some of our clients – Appfolio is the creator of industry-leading property management software we use here at EZR.
I recommend you check out that post. I am going to touch on some of the items on that list, while also providing a few others. Feel free to share any good tips you might have as well in the comments below.
1. Fire Up the Furnace
This is the number one item on my list and it should be on yours too. There's nothing worse than turning on the heat on that first surprisingly chilly day and finding out it's not working.
Here are some things you should do to make sure your HVAC system is functioning properly.
Test the heat to make sure it turns on and raises the temperature
Check air flow throughout the house and clean out any dust buildup
Change your air filter (it's easy to forget!)
If you have an outside air conditioning unit, consider covering it for the winter
Test and clean any humidifiers and dehumidifiers
Have your heating system checked by a licensed professional to ensure it's firing on all cylinders
2. Assess the Landscape
Make sure the exterior of your home is as ready for winter as the interior. Fall is the best time of year to take care of things like trimming and planting. The cooler temperatures will make the process of yard work more enjoyable, too.
Trim all your bushes
Prune your trees
Plant shrubs and trees (they will establish root systems by spring)
Plant perennials or dig and divide perennials
Overseed your lawn to fill in bare spots and give it a thicker growth
Aerate your lawn to allow moisture and nutrients to get into the roots
Clean out lawn equipment like your lawnmower before storing it for the winter
3. Check Both Ways
Before the winter season and any potential ice or salt can make problems worse, inspect your driveway and walkway for any cracks and repair them. Fall is also a good time to consider resealing your driveway.
4. Burn Baby Burn
While gas fireplaces are all the rage these days, there are still a lot of people with traditional wood-burning fireplaces. There's nothing like that crackle and pop of burning wood! If that's you, make sure your chimney is clean and clear of any nests or debris that could catch fire.
5. Analyze Your Exterior
Before it gets cold, take the opportunity to inspect the exterior of your house. Do a thorough analysis to make sure the face of your home, which takes a regular beating from the elements, will be strong and steady this winter.
Check for peeling paint, which can mean moisture is causing the surface of the home to swell
Caulk any suspect windows to keep the cold from getting in
Send a professional up to the roof to find and replace missing, loose, or curling shingles
Look for siding that may be damaged or coming off
Clean and test (with a hose) your gutters
Power wash your siding and windows
6. Improve Your Interior
As the weather changes, you're probably going to find yourself inside more. So, now is a good time to make some interior improvements. For landlords, fall may also be a good time for improvements if you're between tenants.
Give any rooms that need it a fresh coat of paint—or maybe just a new or different color for a change of scenery
Clean your carpets and replace any old or damaged carpet
Check all your windows and consider installing more efficient windows if you can feel cold air coming in
7. Do the Little Things
Just a few more things to keep in mind…
Turn off your hose valves if you're done using them for the year to prevent pipes from freezing in the winter.
Take a peak in your attic. You never know what you might find up there—animals, improper insulation, holes, bad wiring, etc.
Test all your smoke alarms and carbon monoxide detectors to make sure they're in good working condition.
Click the "reverse" switch on your ceiling fans. Changing the direction your fan rotates will help push warm air down that's collecting in the ceiling.
Taking some of these practical actions now will help you preserve your property and hopefully make life a little easier for you in the months (and years) ahead. Have a great fall!
About Ryan Edwards
Ryan Edwards is the owner and property manager for EZR Management. He founded the company in 2006, building on his years of experience managing and renting properties.